Metryki rodziny Kantorków
Witam na stronie o genealogii rodziny Kantorków i pokrewnych rodzin!
Postanowiłem utworzyć osobną stronę o genealogii rodziny Kantorków. Wprawdzie posiadam drzewo genealogiczne z tą rodziną, ale rodzina Kantorek występowała tam jako jedna z linii bocznych, ale nie jako główna rodzina. Tutaj to ona jest główną rodziną i to na niej skupiam swe poszukiwania, dokumenty, metryki i zdjęcia.
Polecam też bardzo profesjonalnie zrobioną stronę Pana Roberta Kantorka o rodzinie Kantorek- http://www.kantorek.eu znajdziemy tu rozbudowane drzewo genealogiczne i wiele bardzo przydatnych informacji o tej rodzinie. Polecam!
Na początek zachęcam do obejrzenia galerii skanów różnych metryk z tej rodziny, które można obejrzeć pod adresem- http://familykantorek.opx.pl/fotki
Zaczynam publikację metryk związanych z rodziną Kantorków. Na początek będą to skany urodzeń wraz z ich polską interpretacją, gdyż metryki są pisane po rosyjsku.
Działo się we wsi Chruślin szóstego ( dziewiętnastego) sierpnia 1906 roku o godzinie pierwszej po
południu. Stawił się osobiście Józef Kantorek lat 46, robotnik zyjący w Mystkowicach, w obecności Michała Grzyba lat 44 i Tomasza Gałaja lat 50, obu gospodarzy zamieszkałych w Mystkowicach i okazał nam dziecię płci żeńskiej oświadczając, że urodziło się ono w Mystkowicach trzeciego ( szesnastego) sierpnia tego roku o godzinie czwartej po południu z prawnej jego żony Franciszki urodzonej Twardowska lat 37.
Dziecięciu temu przy Świętym Chrzcie przez Nas udzielonym w dniu dzisiejszym dano imię Cecylia, a chrzestnymi byli Michał Grzyb i Jadwiga Gałaj.
Akt ten po przeczytaniu przez Nas podpisany, albowiem stawający i świadkowie niepiśmienni.
Administrator parafii Chruślin.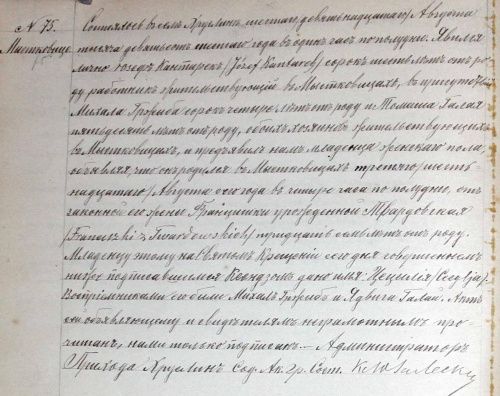 Działo się we wsi Chruślin szesnastego ( 29-go) grudnia1901 roku o godzinie pierwszej po
południu. Stawił się osobiście Józef Kantorek lat 44, robotnik zyjący w Mystkowicach, w obecności Jana Garczyńskiego lat 33 i Adama Garczyńskiego lat 40, obu gospodarzy zamieszkałych we wsi Bocheń i okazał nam dziecię płci żeńskiej oświadczając, że urodziło się ono we wsi Bocheń czternastego ( 27-go) grudnia tego roku o godzinie siódmej wieczorem z prawnej jego żony Franciszki urodzonej Twardowska lat 30.
Dziecięciu temu przy Świętym Chrzcie przez Nas udzielonym w dniu dzisiejszym dano imię Małgorzata, a chrzestnymi byli Jan Garczyński i Marianna Misiak
Akt ten po przeczytaniu przez Nas podpisany, albowiem stawający i świadkowie niepiśmienni.
ks. Stanisław Zdanowicz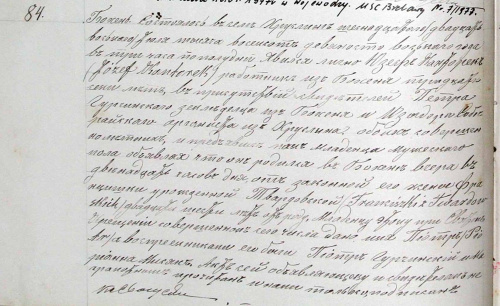 Bocheń. Działo się we wsi Chruślin szesnastego ( 28-go) czerwca 1898 roku o godzinie trzeciej po
południu. Stawił się osobiście Józef Kantorek lat 37, robotnik z Bochenia w obecności Piotra Górczyńskiego rolnika z Bochenia i Teodora Sobierajskiego organisty z Chruślina i okazał nam dziecię płci męskiej oświadczając, że urodziło się ono w Bocheniu wczoraj ( tj. 27 czerwca) tego roku o godzinie dwunastej w południe z prawnej jego żony Franciszki urodzonej Twardowska lat 26.
Dziecięciu temu przy Świętym Chrzcie przez Nas udzielonym w dniu dzisiejszym dano imię Piotr, a chrzestnymi byli Piotr Górczyński i Marianna Misiak.
Akt ten po przeczytaniu przez Nas podpisany, albowiem stawający i świadkowie niepiśmienni.
Administrator parafii Chruślin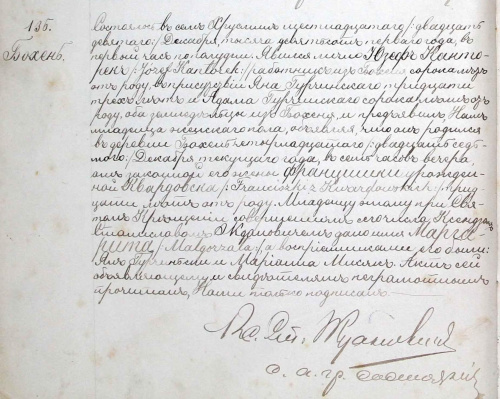 Kolejne metryki: